ADTRAN NT1 ACE 4
Normal Status Lights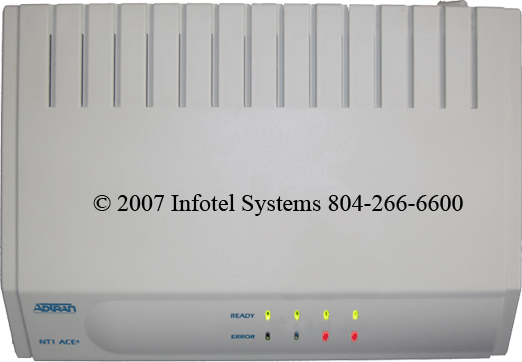 Light

STATUS

Description & Suggested Action

READY
Green (Solid/Flashing)
S/T & U interfaces are ready to place a call.
Flash 8 CPS
Carrier failure, BRI circuit is down. // Call your Carrier. They need to perform a BERT test on the circuit. If inconclusive, they must come to your site & connect with a BRI test set.
Flash 1 CPS
PBX failure. // Disconnect from NT1 to telephone system. // Call your Vendor.
ERROR
Occasional or Solid Red
It's a line quality problem the Carrier must fix. // Call the Carrier and have them run a 20 minute BERT test & send results to your Vendor.



Circuits 1 & 2 OK.

Circuits 3 READY light flashing 1 CPS

Circuits 4 READY light flashing 8 CPS

Make sure the Carrier does not test the wrong circuit. Any obtrusive test on a solid green working circuit will cause the green light to blink.
For more information or to have your device listed please contact Infotel Systems