Carrier Access Adit 600 - VoIP
Normal Status Lights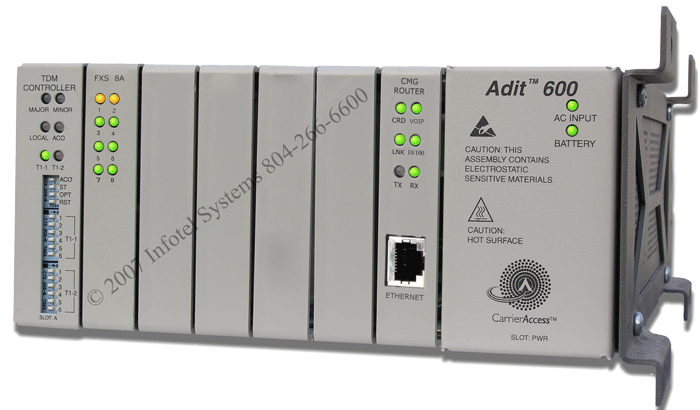 | | | |
| --- | --- | --- |
| Light | STATUS | Description & Suggested Action |
| T1-1 | Red (Solid) | T1 is down. // Call the carrier. |
| MAJOR/MINOR | Red (Solid) | T1 could have taken a power surge. // Call the Carrier. (See CMG ROUTER/CRD) |
| CRD | Green (Not Solid) | Voice over IP card failure. // Call the Carrier. |
TDM Controller - This is the T1 Card.
Light

Status

Description & Suggested Action (Likely Failures in Bold)

MAJOR OR MINOR
Unlit
No alarms present.
Red/Yellow
Red = Major alarm Yellow = Minor alarm
LOCAL
Unlit
Remote mode (DIP switches disabled).
Green
Local mode (DIP switches enabled).
ACO
Unlit
Normal mode. No alarms are being suppressed.
Yellow
Alarm cutoff active. One or more active alarms suppressed.
T1-1 OR T1-2
Unlit
Offline
Green
Normal
Red
Loss of Signal (LOS) detected.
Yellow
Bipolar Violation (BPV) detected.
Green (Flashing)
Loopback active.
Red (Flashing)
Loss of Frame (LOF) or Alarm Indication Signal (AIS) detected.
Yellow (Flashing)
Yellow alarm (Remote Alarm Indication) detected.
CMG Router
Light

Status

Description & Suggested Action (Likely Failures in Bold)

CRD
Unlit
Loss of power.
Green
No current alarms.
Red
Alarm state active. // See alarm log for cause. // (If TDM CONTROLLER/MAJOR are RED also, have a qualified Tech pull card out 1 inch, then push back for a cold boot)
Red (Flashing)
Self-test or Boot in-process.
Yellow (Flashing)
Card is saving data to flash RAM, do not power down.
VOIP
Unlit
No active VoIP calls or if the MGCP protocol is optioned down.
Green
Active VoIP calls.
Red
Call agent unreachable.
Yellow
Insufficient VoIP resources to complete call or during initialization process.
LNK
Unlit
No Ethernet link.
Green
Good Ethernet link.
10/100
Unlit
10 Mb Ethernet.
Green
100 Mb Ethernet.
TX/RX
Unlit
No Ethernet transmit activity.
Green
Current Ethernet TX/RX activity.
Yellow
Current Ethernet TX/RX collision.
For more information or to have your device listed please contact Infotel Systems