Viking PA-IP SIP Multicast Paging Adapter
Normal Status Lights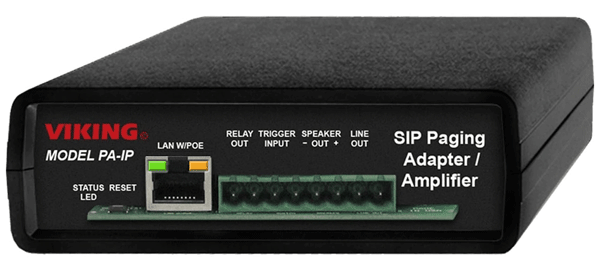 Light

STATUS

Description & Suggested Action

STATUS
RED/FLASHING
If the unit cannot register with the programmed SIP server the Status LED will blink on and off every second until communication is restored.
LAN W/POE LEFT STATUS LED
GREEN/SOLID
Normal operation
LAN W/POE RIGHT NETWORK LED
YELLOW/FLASHING
Lights steady to indicate power and data link. Blinks to indicate network activity.

The "Page / Status" LED on the PA-IP can be programmed to one of three different modes.

Factory Setting: Paging Mode

OFF Mode: In this mode the LED will not light during normal operation. It will only light (blink) if it cannot register with

the programmed SIP server or while manually resetting all network parameters to factory default.

On Mode: The LED will remain ON when the unit is powered and registered. The LED will flash if registration is lost

and alarm is active.

Paging Mode: The LED will remain OFF in the idle state, light steady when the page is active, then turn OFF when

the call is completed. The LED will also light steady during Multicast paging.
For more information or to have your device listed please contact Infotel Systems